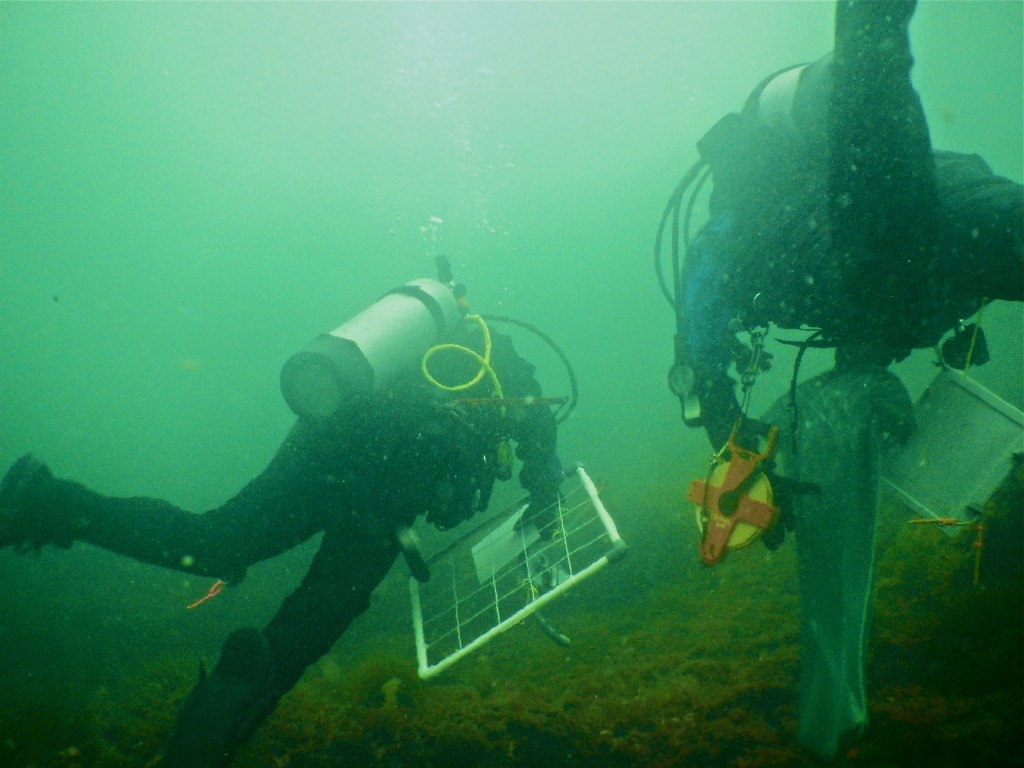 Coming Summer 2015
Are you a SCUBA diver who wants to learn how to use diving to study the ocean? Then this is the class for you!

What do I get out of it besides learning about marine biology methods underwater?
Taking this course will put you on track to work in labs on campus as a research diver. Perhaps you can even work with faculty in Biology & the School for the Environment to concoct a subtidal research thesis!
Where do I sign up?
Right here with the College of Advancing & Professional Studies at UMB.
When does this course meet?
Tuesdays and Thursdays from May 26-June 29. Lecture will be in the mornings (10-12) and dives will be in the afternoon at a variety of locations.
What do I need as a pre-requisite for this course?
Contact the instructor – but you'll need a basic SCUBA certification from a recognized organization (PADI, NAUI, SSI, etc.)
Do I need to do anything before the course?
Yes! First, have dive insurance – DAN will do. This is required. Second, you'll need a medical checkup specific to scientific diving. Third, we need a dive and gear history. You can download them all here. The instructor will need you to email this to them before the first day of class.
Who will be teaching it?
Ted Lyman, UMB's Dive Safety Officer, will be teaching the course along with guest lectures from other faculty and dive professionals.
What will we be doing?
Here's a sample list of topics:
– Diving physics, physiology, decompression theory, & dive computers
– Sampling design & statistical analysis.
– Census methods & habitat surveys for research.
– Diving emergency management including:
– CPR & First Aid, AED use & Oxygen Administration
– Diver rescue training
– Dive planning & logistics, fill station use, SCUBA cylinder use & care
– Underwater photography & video as tool.
What's in the syllabus? I want more details!
Take a gander, and let us know if you have any questions. Download syllabus.
I need gear for the class! Any suggestions on rentals, etc.?
There are a number of wonderful dive shops in the area. We get a lot of our gear at United Divers in Somerville. They're wonderful folk, and have worked with UMB students in the past.